One Thing Movement and the Climate Council of Greater Kansas City have partnered to provide digital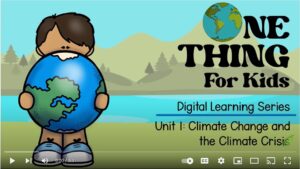 learning materials that bridge the gap between eco-education in schools and the immense need for materials that teach about environmental challenges in our world today.
Video 1 takes an in depth look at climate change and the climate crisis in our world today. Much like a school science unit, this video includes key concepts, vocabulary, and supplemental, digital lessons. Presented in a kid-friendly, engaging format, these materials support a variety of learning styles, interests, and ability levels. Visit onethingmovement.org to learn more.
The One Thing Movement and One Thing for Kids grew from an educational platform. In the classroom, learning approaches start small giving students the confidence necessary to move onto more complex problems. Schools are communities of engaged learners working together in ways that match their abilities and interests. If we can apply this system to today's environmental problems, together we can make a big difference.
This video is the first of many in our digital learning series for kids, but don't let the word kids fool you. The information in this video is for everyone who wants to better understand issues surrounding our environment and the actions we can take.