Did you know that approximately 6.3 million stray animals enter U.S. shelters each year and that almost 1 million of them are euthanized? ASPCA.org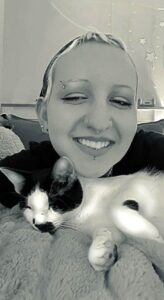 Rain Adams has loved animals ever since they can remember and is doing their part to make a difference for those in need. From a young age, Rain knew they wanted to help. However, being so young meant volunteering at local shelters wasn't an option. Not giving up, they decided to make and sell pet treats instead, hoping to donate money for food and supplies. What started as sales to family and friends quickly grew. A local news station heard the story, and things took off. Rain's small business Pawsitively Amazing Vegan Pet Treats was born with sales coming in from across the United States. Over the next two years, Rain was able to raise $6,000.00 for shelters in the Kansas City area.
That was just the beginning for Rain, and animals have been their One Thing ever since. Rain and their family have adopted several rescue pets over the years including a Welsh corgi mix named Brady who had been abused by previous owners, a chihuahua named Bella rescued from a puppy mill, a cat named Sasha saved as a kitten from an animal hoarder's home, and most recently Cookie, a stray kitten that was found with a severe eye infection and unable to see. Now in college, Rain is pursuing an environmental science degree in animal behavior, working at the local zoo teaching visitors about wild animals and helping Cookie navigate the world blind.
Domestic pet overpopulation is a real concern for the environment negatively impacting ecosystems. Stray animals are considered non-native species meaning they don't exist naturally within a habitat. Mostly unvaccinated, these animals can spread disease and internal parasites threatening native wildlife. One Green Planet.org These animals also disrupt the food chain acting as predators taking food from native animals.
On a larger scale, the vast number of unwanted animals that end up in shelters each year require resources that add to the climate crisis. 3,500 shelters were reported in the U.S. in 2021. When the resources needed for each are multiplied and the impacts of euthanization added, the negative carbon footprint is significant.
By supporting animal shelters, choosing adoption to find their own animal companions, and educating the public about animals both big and small, Rain's One Thing is a way of life. They are using their time in school to learn more about the environment, the negative impacts of human mismanagement on our climate, and solutions that promote biodiversity and habitat preservation. It's a truly AMAZING ONE THING.