Join us at The Resilient Activist's inaugural
Climate Café
6:30-8pm CST on Tuesday, Mar. 1
Hosted on our Mighty Networks Online Community via Zoom
A Climate Café is a gathering of people who share their responses to the climate crisis in a safe space, supported by community and skilled facilitators. Join our climate café to express, release, and connect together with like-minded others.
It's a warm and confidential occasion with no guest speakers, no lectures, no advice, no commitment, an action-free space. Come to one Climate Café or several.
The focus is our thoughts and feelings about climate change, rather than what we're doing about climate change.
Register for our Climate Café here.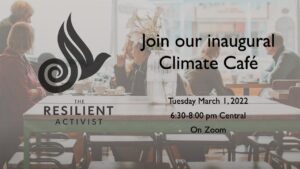 Meet your friends. Speak your #ClimateTruth.