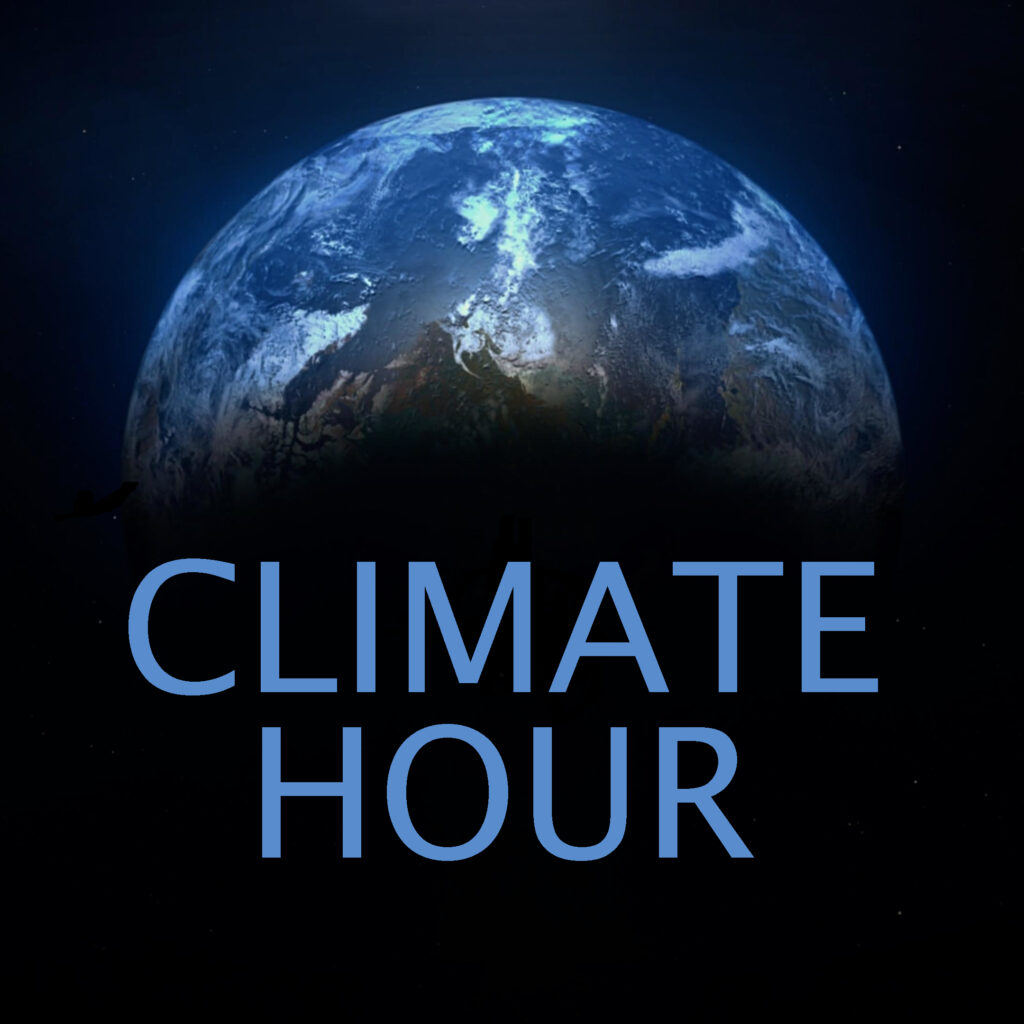 Have you listened to the Climate Hour lately? It's available across the U.S. on radio stations in the Pacifica Radio Network and on all major streaming platforms worldwide. The Climate Hour is a friendly blend of climate news, technology and science that is working its way up the charts, recently ranking #49 in the U.S., #45 in Australia, #2 in Norway and #1 in Thailand.
Climate Hour host and author, Bob Grove, brings a broad understanding of climate issues and the ability to engage both scientists and activists in clear, easy-to-understand conversation. His guests are leading experts in their fields.
Guests, such as …
Pournima Agharkar, environmental scientist and Secretary of the Indian Network on Ethics and Climate Change in Andhra Pradesh, India.
Dr Greg Asner, Director of the Center For Global Discovery And Conservation Science at Arizona State University and Founder of Asner Labs.
Howie Hawkins, Green Party Co-Founder and 2020 U.S. Presidential Candidate.
Dr. Mark Jacobson, Professor of the Civil and Environmental Engineering Department and Director of the Atmosphere/Energy Program at Stanford University.
Dr. Wendell Chris King, Brigadier General (ret.), U.S. Army, and Dean Emeritus of the U.S. Army Command and General Staff College.
David Kraft, Director and Co-Founder of the Nuclear Energy Information Service.
Kevin O'Brien, Founder & President of the Papahānaumokuākea Marine Debris Project.
Mark Reynolds, Executive Director of Citizens' Climate Lobby.
Dr Rohan Shetti, climatologist and Faculty of Environment of the University of Jan Evangelista Purkyně in the Czech Republic.
Mike Stout, author, musician, activist and composer of the hit song, "Refuse, Reuse, Reduce."
Larry Williams Jr., Executive Director of the Labor Network for Sustainability and Founder of UnionBase.
You can listen to the Climate Hour throughout the KC Metro area on KKFI 90.1 FM's EcoRadio KC. You can also listen on your favorite streaming platform, such as Apple Podcasts, Google Podcasts, Spotify, Amazon Music, Android, Pandora, iHeartRadio, Gaana, TuneIn and more. Current and past episodes are also available at www.ClimateHour.net, bringing you the best in climate news, technology and practices from experts in the field.