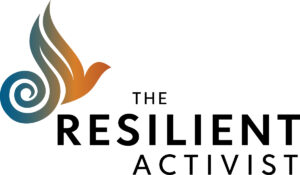 Activists, especially environmental activists, are underappreciated heroes who carry the weight of the world in their hearts, minds, and bodies every single day. These gentle souls step into activism based on a fervent desire to right a wrong, heal a pain, or alleviate a grief with the pervasive awareness of the fragility of ecosystems, wildlife, and humanity on this planet. Compassionate and sensitive, many activists struggle with depression, grief, and a sense of impending failure over ongoing ecological destruction.
TRA was founded to help activists recognize the critical value of self-care and to provide the community, resources, and insight to support long-term resilience in light of the critical work they do."
TRA brings together community organizers, nonprofits, corporate entities, and individuals who are concerned about climate change and related social justice issues. Our community includes those at all socio-economic levels, many of whom work with underrepresented communities that are most negatively impacted by environmental disasters.
We offer resilience and coping tools through our various presentations and workshops that cover the intersection of climate change and mental health. Our programs are offered to the public via our Events page as well as customized presentations for organizations that would like to bring resilience tools to their staff and volunteers. Tools include deep nature connection, mindfulness practices, coping skills, the creation of personalized stress management plans, community-building, and more.