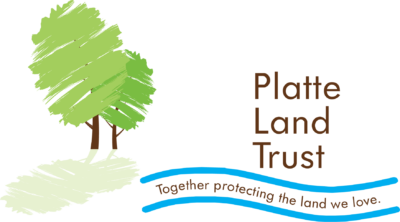 Platte Land Trust (PLT) is an all-volunteer conservation organization working in the Kansas region for 25 years. We believe a healthy, stable environment is vital to the well-being of people and planet. Our mission is preserving natural resources, habitats, family farms, and ecosystems that sustain life. PLT is a nationally accredited land trust.
Our core values include:
Open spaces and natural areas are vital to the health of people and communities.
Open spaces, natural areas, and farms in balance with the built environment are essential for healthy, prosperous, and quality communities.
Conservation and agriculture land contribute to the economic vitality of our communities.
Voluntary, private land preservation is a tool for achieving this balance.
People and organization working together protects more land for communities and future generations.
Platte Land Trust uses conservation easements and land donations as methods to preserve land in perpetuity.
We own 20 acres in southern Platte County, Charlotte Sawyers Nature Area, and hold conservation easements on 642 acres.
Charlotte Sawyers Nature (6075 Union Chapel Road, Parkville) is open every day for wildlife viewing and nature walks.