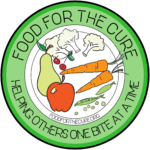 At Food for the Cure, we are passionate about our planet, community, and the cancer patients we serve. We strive to grow organically, to not only feed cancer patients healthy organic produce to hopefully help them in their battle with cancer, all while free of charge. Also, while helping fight climate change by using no synthetic chemicals, improving our soils, and capturing carbon in the ground.
We currently have a 48x30 ft garden in the organic community garden located at St. Peters and All Saints Episcopal Church 100 E Red Bridge Rd, Kansas City, MO 64114. This is our current main location where we grow the majority of the produce given to cancer patients all over the Metro.
When volunteering people can learn about how they too can grow vegetables in their own backyard without the use of harsh synthetic chemicals and work with nature to improve our planet while reaping the rewards of a great harvest at home.
We currently serve University Health's Oncology Department and also deliver to cancer patients all around the Metro. At Food for the Cure, we grow and hand pick when the vegetables are ready. Once vegetables are ready to pick, we contact our cancer patients to see what they would like to have and deliver to them usually all in the same day. The food is as fresh as possible to ensure that they receive the highest quality and nutrition to help them battle cancer. All while running on donations and volunteers. Cancer Patients and volunteers can easily sign up on our website.