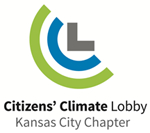 Citizens' Climate Lobby is organized across the United States in 485 local chapters. We have two int the Kansas City metro area, one on the Missouri side and another on the Kansas side. We work to increase the political will for greenhouse gas emissions and other climate action at all levels of government--local, state, national, and international.
The Climate provisions of the 2022 Inflation Reduction Act—the biggest climate legislation ever—are partly a result of our lobbying efforts over the past years.
Our main emphasis is lobbying public officials at all levels, their major influencers, and grassroots education.